Connect With Us




---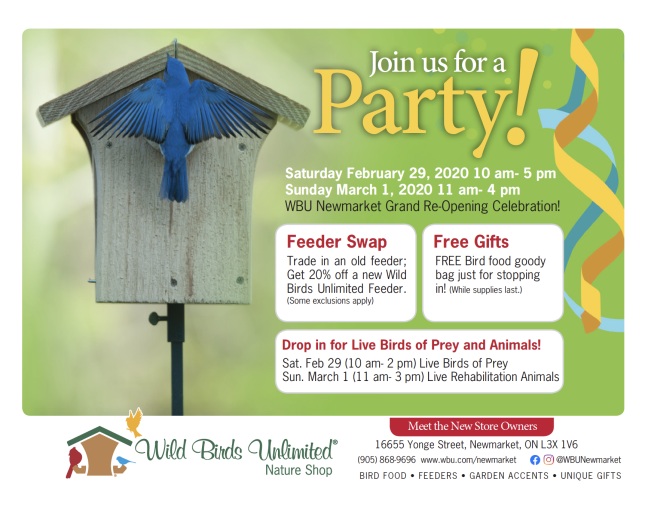 WBU Newmarket Grand Re-Opening Weekend
Saturday, February 29, 2020 to Sunday, March 1, 2020
We're having a party to celebrate our grand re-opening and hope you can join us! Come and meet the new owners of WBU Newmarket, Kristen and Cameron, check out the newly renovated store and enjoy our exciting animal guests. Plus, there's plenty of prizes to be won, promotions to take advantage of, and refreshments to enjoy. Hope you can join us!
On Saturday, February 29th from 10 a.m. - 2 p.m. we'll be joined by our friends from the Mountsberg Raptor Centre and their birds of prey. Meet the handlers of these magnificent birds, learn all birds of prey and hear about the individual stories of these fascinating creature and how they became rehab/education animals.
On Sunday, March 1st from 11 a.m. - 3 p.m. we'll have the team of Wildlife Ambassadors from Soper Creek Wildlife Rescue on hand. Soper Creek Wildlife Rescue is licensed by the Ministry of Natural Resources and Forestry (MNRF) and Canadian Wildlife Services to rescue, rehabilitate and release sick, injured, orphaned or abandoned wildlife. Soper Creek Wildlife Rescue is dedicated to providing programs that are both fun and exciting, as well as educational.
Both days are a drop in style events, and you are welcome to visit the animals any time for as long as you would like within the hours posted above. This event is free and great for all ages, we hope to see you in store!
---
In-Store: February 7 - February 16, 2020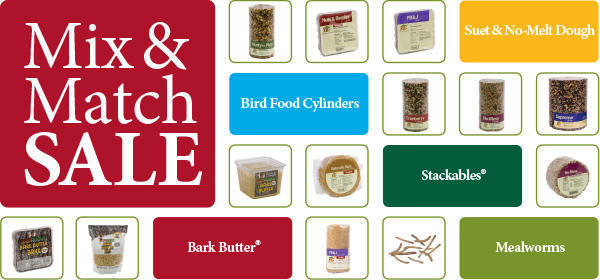 In-Store Only: Buy 4 Specialty Bird Food Items; Get the 5th FREE*
Enjoy New Birds and Help Them, Too!
The weather can make it a tough time for birds. Research shows that providing a consistent and reliable source of high-fat, high-calorie foods can help birds maintain a healthy body condition and help you attract new feathered guests.
During our Mix & Match Specialty Bird Foods Sale, you can save on a wide variety of high-fat foods, including our exclusive Bird Food Cylinders and Stackables®, suets, Jim's Birdacious® Bark Butter®, mealworms and more. It's a great way to save and provide your birds with much-needed nutrients.
Mix & Match Specialty Bird Foods Sale
Buy 4; Get 1 FREE* (Limit 2 free Items per Household)
*Buy any four specialty food items and get the fifth item of equal or lesser value FREE. Limit 2 free items. Specialty food items include: Bark Butter, Bark Butter Bits, Bugs & Bits, Suet Cakes, No-Melt Suet Cakes, Suet Plugs, No-Melt Dough Cylinders, Seed Cylinders and Stackables, Live and Dried Mealworms. Valid on in-store purchases only. Not valid on orders placed via myWBU online, including store pickup. Not valid with other discounts, previous purchases or sale items. Sorry, no rain checks. This offers terms and conditions are subject to change without notice at any time. Offer valid from February 7 through February 16, 2020 at WBU Newmarket.
---
Are You "For The Birds"?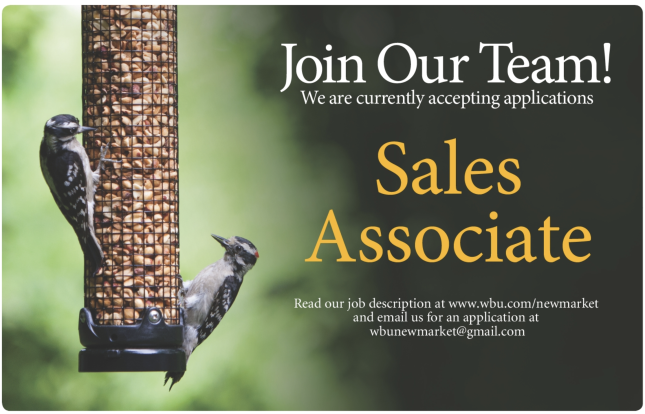 WBU Newmarket is currently seeking friendly and passionate nature lovers for positions as Bird Specialists (Sales Associates) for details on how to apply please visit: newmarket.wbu.com/employment-opportunity
---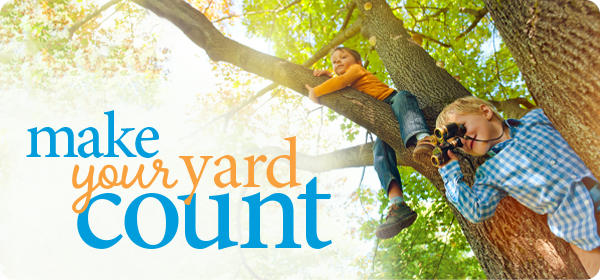 Take Part in the Great Backyard Bird Count: February 14 - 17, 2020
When you feed birds in your backyard, it shows that you value having a daily relationship with nature and that you are willing to take action to foster it.
Like many of us, if you have been feeding birds for a while…you probably have a reputation. Your friends, neighbors and relatives likely see you as a person who loves nature, and they value your willingness to share the enjoyment of "your" backyard birds at a moment's notice.
Your hobby and your backyard truly count as things that bring you joy and are important to you.
The Great Backyard Bird Count gives you the opportunity to make them count even more than ever by participating in this annual event which links citizens with scientists in an effort to collect important data about backyard birds.

The GBBC is a joint project of Cornell Lab of Ornithology and the National Audubon Society and is sponsored by Wild Birds Unlimited. It takes place each February. Count the birds in your backyard, and then simply report the information online.
Your information becomes part of an extensive data base that is analyzed by scientists to better understand important trends in bird populations, range expansions, habitat changes and shifts in migration patterns.
Make your backyard count even more for the birds when you participate in this year's GBBC. And to ensure the birds all show up to be counted, visit our store for the widest variety of great bird food products!
---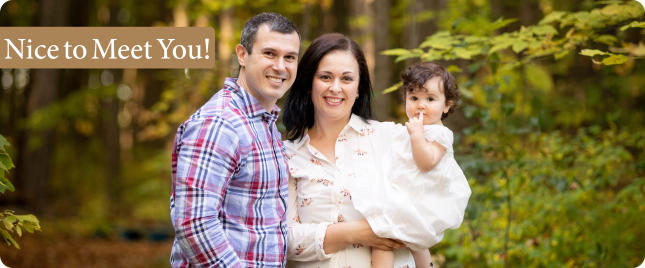 Hi There! We are Cameron, Kristen and Elena and we are so excited to be the new owners of Wild Birds Unlimited Newmarket. We look forward to meeting you in store and hearing about your backyard birds and wildlife. In January we updated the interior of the store (stop in to see the changes, if you haven't already) and we look forward to offering a host of exciting things in 2020 including in store educational talks, special events and bird walks. We invite you to join us for our very first event- WBU Newmarket's Grand Re-Opening February 29-March 1, 2020. There will be lots going on that weekend including sales, free giveaways and live birds of prey and rehabilitation animals.
Thank you for supporting our locally owned small business and we look forward to assisting you with all your nature needs.
~Cameron, Kristen and Elena
Coming Soon! Online Ordering

---