16655 Yonge Street, Unit #2
Newmarket, ON L3X1V6
Located in the Mandarin Plaza, Newmarket

(905) 868-9696
Open Today Until 5:00 pm
| | |
| --- | --- |
| Monday | 10:00 am - 6:00 pm |
| Tuesday | 10:00 am - 6:00 pm |
| Wednesday | 10:00 am - 6:00 pm |
| Thursday | 10:00 am - 7:00 pm |
| Friday | 10:00 am - 6:00 pm |
| Saturday | 10:00 am - 5:00 pm |
| Sunday | 11:00 am - 4:00 pm |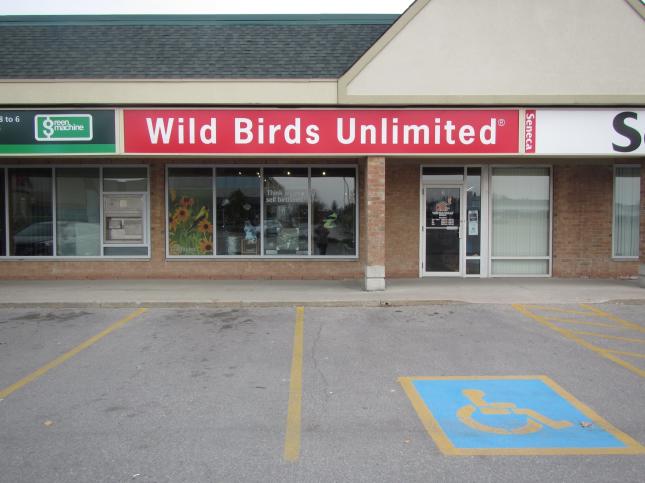 Kristen Martyn and Cameron Hogarth Franchise Store Owners
View Our Store Site
Connect With Us


---
Are You "For The Birds"?
WBU Newmarket is currently seeking friendly and passionate nature lovers for positions as Bird Specialists (Sales Associates) for details on how to apply please visit: newmarket.wbu.com/employment-opportunity
---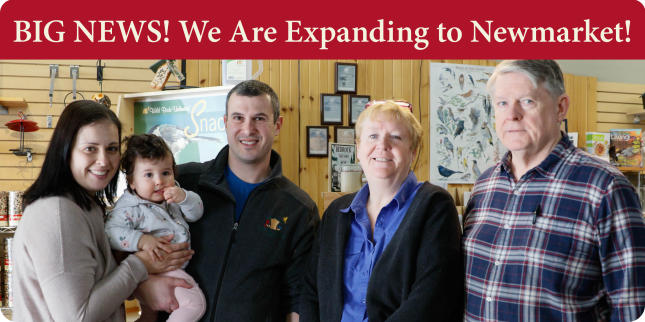 We are so excited to announce that our family will be the new owners of Wild Birds Unlimited Newmarket as of January 2, 2020. As the owners of Wild Birds Unlimited Barrie we have enjoyed getting to know you, your birds, and participating in fun nature events in our community. We are thrilled that we will have the opportunity to do the same in Newmarket.
Dave and Liz, who opened WBU Newmarket in 2004, are retiring. We have enjoyed their friendship and support as fellow store owners over the past 8 years and wish them the very best in their next chapter in life. We are humbled that they have passed us the torch to continue on with the awesome nature shop they have built. We hope to make them proud.
We will be starting the new year off with a bang as we begin to update the look of WBU Newmarket. We will, however, be open throughout the process so please bear with us. It is our goal that regardless of which location you shop at - both in store and online via myWBU (coming to Newmarket in the new year) - you will get the same excellent experience with expert knowledge with top notch customer service.
We look forward to assisting you with all your backyard bird and nature needs in 2020.
(Pictured above left to right: Kristen, Elena, Cameron, Liz and Dave)
---

Being Seasonally Savvy: You Can Help Birds Survive
It's really hard to think of wild birds as being loyal friends.
After all, they are truly one of the freest creatures on the planet, able to fly anywhere at any time with nothing to bind them to any single location.
But birds, like humans, are creatures of habit and bird banding studies have shown that many of our winter birds, such as Juncos and native sparrows, utilize the same wintering location year after year.
With a potential lifespan of over 10 years, it is likely that the Junco gleaning millet off of the ground below one of your feeders has spent many previous winters as your loyal backyard guest. And recent research shows that is only half the story!
These birds are not only loyal to a specific location, but also to a single feeder! The study showed that the only time they abandoned their favourite feeder was during periods of cold weather when the feeder was in a location too exposed to the wind.
So help your birds stay loyal and warm by locating your feeders in a sheltered location out of the wind. The east or southeast side of a house or near a row of trees or evergreens is ideal.
By providing a properly sheltered foundational feeder, one that you keep filled at all times, you can help your birds with the crucial nutrition they need to survive the coldest months of the year. Recent research has shown that a consistent and reliable source of food helps birds to build body fat reserves, reduce their physiological stress and maintain a healthy body condition.
Stop by our store for more expert advice and quality products that will help your birds to stay true blue and warm, too this winter.
---
Coming Soon! Online Ordering

---
---