16655 Yonge Street, Unit #2
Newmarket, ON L3X1V6
Located in the Nature's Emporium Plaza, Newmarket

(905) 868-9696
| | |
| --- | --- |
| Sunday | 11:00 am - 4:00 pm |
| Monday - Saturday | 10:00 am - 5:00 pm |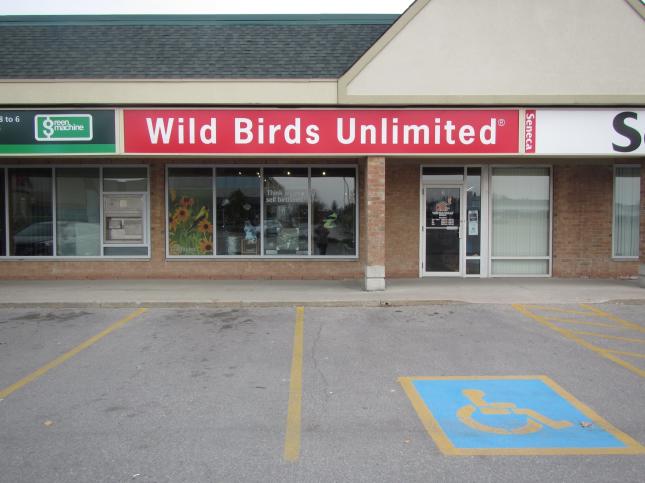 Kristen Martyn and Cameron Hogarth Franchise Store Owners
View Our Store Site
---
We will be CLOSED Monday August 2, 2021 for the Civic Holiday
---
Update July 30, 2021: Open for Limited In-store Shopping, Curbside Pickup and Shipping
We are currently open for in store shopping! To shop with us in store we are requiring masks to be worn and hand sanitizer to be used upon entry to ensure the health and safety of everyone. We will be limiting in store shopping to a maximum of 6 customers at a time. Click here or on the above banner to read more details on our COVID 19 in store shopping policies and to learn about how we are ensuring a safe shopping experience.
---
Birdbaths and Accessories
During the heat of summer birds and other wildlife need access to water. Offering a bird bath is a wonderful way to ensure birds and other wildlife have the water they need for drinking and bathing. We've got lots of great birdbaths in stock and all the accessories (solar fountains, water wigglers etc.). Offering your backyard birds a source of open water in your yard will enhance your enjoyment of backyard birds. Whereas some birds in our yards do not eat seed and bird food from our feeders water is required by all birds. Through water you can attract an even greater variety of birds to your backyard including: American Robins, Brown Thrashers, Northern Mockingbirds, Northern Flickers, hawks, falcons, bluebirds, chickadees, cardinals, nuthatches, doves, woodpeckers, wrens, warblers, redpolls, finches, grosbeaks, jays and sparrows. Visit us in store to see our full selection of bath and garden products.
Hummingbirds
Hummingbirds are very active at feeders throughout the summer. It's not too late to attract these little gems to your yard. We've got lots of great hummingbird feeders in stock including the World's Best Hummingbird Feeders the WBU High Perch Feeders as well as hand blown glass feeders and hummingbird nectar. Want some advice on attracting these little jewels? Give us a call or stop in to speak to one of our Certified Bird Feeding Specialists.
Corinthian Bells Wind Chimes
Summer is the perfect time to enjoy the soft sound of wind chimes in your yard. Corinthian Bells are the best-selling chimes on the market and combine exceptional design with incredible tones and resonance. They are musically designed to produce soft, rich tones that blend together beautifully. With a light breeze, these chimes will sing out their soft notes, providing a peaceful, musical background to your day. Each set of chimes is hand tuned to a music scale. Corinthian Bells Chimes come in a variety of sizes and colours. Corinthian Bells make a beautiful gift or addition to your backyard atmosphere.
Locally Made Stained Glass
We are so fortunate to have some incredibly talented stained glass artists in our local community. We have some beautiful one of a kind hand made pieces that feature backyard birds including cardinals, Blue Jays, hummingbirds and more! Visit us in store to see our full collection of locally made stained glass pieces. These one of a kind pieces of art also make great gifts for nature lovers.
Need some advice on what to offer your hummingbirds or how to keep blackbirds off of your feeders. We are happy to help make expert recommendations! Give us a call or stop in for the best bird feeding tips and advice from our Certified Bird Feeding Specialists.
Wild Birds Unlimited Newmarket is you're local Canadian source of the best wild bird feed wild bird food wild bird seed wild bird houses wild bird feeders wild bird nesting supplies wild bird baths wild bird feed wild bird food wild bird seed wild bird houses wild bird feeders wild bird nesting supplies wild bird baths best wild bird feed wild bird food wild bird seed wild bird houses wild bird feeders wild bird nesting supplies wild bird baths wild bird feed wild bird food wild bird seed wild bird houses wild bird feeders wild bird nesting supplies wild bird baths wild bird water wild bird water oriole feeder oriole feeder hummingbird feeder hummingbird feeder live mealworms live mealworms
---