Homepage
**NEW** Extended Hours- Our Hours of Operation are
Monday - Friday: 10 am - 6 pm
Saturday: 10 am - 5 pm
Sunday: 11 am- 4 pm
---

Hummingbirds - Too Good to Be True!
Hummingbirds – Where do you start? So cool! So tiny! So unique!
Certainly one of the most beautiful birds in the world and truly one of the most fascinating.
What makes them so special?
Size for one…or the lack there-of. They really are the smallest of all birds, and yet, with more than 330 species, they are the second largest family of birds in the world. A fact made even more remarkable when considering that they are found no where else on the planet except in the Americas. Not in Asia, not in Europe, not in Africa or anywhere else except the Western Hemisphere.
They are the undisputed avian aerobatic flight champions, masters at hovering and the only birds able to fly backwards and upside down.
They have the fastest heart rate, the fastest wing beat, the fastest metabolism and the largest heart, in proportion to body size, of any bird.
A large heart, but a really small brain, the smallest of any bird…about the size of a BB! But it's a good brain, capable of navigating thousands of miles to migrate back to the exact same feeder year after year.
And the smallest of all birds has one of the biggest appetites…ingesting up to eight times their weight in solid food and liquid every day.
How much is eight times your body weight?
As for that "solid" food…they use the flexible tip of their bill to capture insects and insect eggs from the ground and on plants. They love spiders and spider eggs. And as for the "liquid" portion, their forked, open-grooved tongues lap up nectar from the feeders and flowers at an amazing 12 times a second.
So, maybe they aren't too good to be true…but they are too good to miss!
Do you have your feeder out yet?
---
Get Your Yard Ready for Spring

---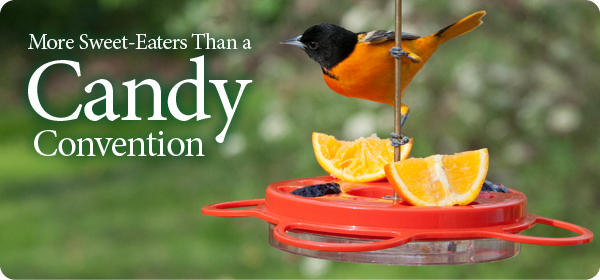 Oh! Things to Know About Orioles
One of North America's most popular fruit-eating birds is the oriole and we can help you attract them to your yard if they are in your area.
Orioles are known to enjoy orange slices, grape jelly and mealworms offered from tray-style feeders. Nectar feeders can also be used. Dissolve ¼ cup of table sugar in 1 cup of warm or hot water; cool and fill the feeder. Be patient and keep the foods fresh, replacing them every few days and be sure to keep your feeders clean, too.
Oriole Fun Facts
When not feeding on nectar, orioles seek out caterpillars, fruits, insects, and spiders.
The Oriole nest is an engineering masterpiece. They weave a hanging-basket nest with plant fibers, grasses, vine and tree bark and sometimes string or yarn placed out on the small twigs of a branch 6-45 feet in the air. This keeps them safe from most predators.
The Baltimore Oriole is a common inhabitant of suburban landscapes due to is preference for open settings that are bordered with mature trees.
Orioles are a member of Icteridae family, meaning that their closest bird relatives include meadowlarks, blackbirds, bobolinks and grackles.
The oriole gets its name from the Latin aureolus, which means golden.
---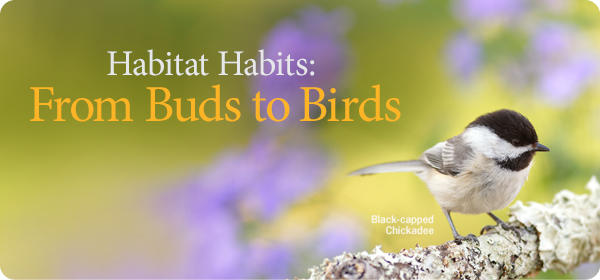 Backyard Habitat – You Can Make a Difference!
Think of your yard as a blank slate.
If you could start from scratch, what would be your ultimate landscape design? A classical French garden? An English cottage garden? Or the tried and true suburban turf grass and shrubbery design?
All of these designs can bring style and beauty to your yard, but if your desire is to have a lot of birds and other wildlife as a part of your landscape…they are sure to fail.
So, why not consider a different garden design…a habitat garden! Habitat gardens display all of the beauty and style as the other designs, but they also attract and nurture a much broader variety of wildlife such as bees, butterflies, birds, and amphibians.
By creating a native landscape that provides wildlife with food, water, shelter and the places they need to raise their young, you will also play a valuable role in helping to reverse some disturbing trends in wildlife populations.
Research has recently quantified the loss of almost one-third of our total bird population in North America over the last 50 years, and our Monarch Butterfly population has declined by more than 80 percent since the mid-1990s. Scientists have identified habitat loss as the biggest reason for these and other wildlife declines.
Just imagine if we could re-make every suburban lawn in North America into a nurturing wildlife habitat! While once a daunting thought, it is easier and more realistic to do than ever before…thanks to Birds Canada's Gardening for Birds program. Through the use of Birds Canada's abundant support materials and online resources, everyone can be inspired to create a haven for wildlife in their own yard.
Wild Birds Unlimited is proud to support the Gardening for Birds program and encourages everyone to plant a habitat garden for birds. Visit www.wbu.com/gardening-for-birds to see how easy it is to create your own backyard habitat and to truly make a difference for the future of song birds and other wildlife.
---