Are You "For The Birds"?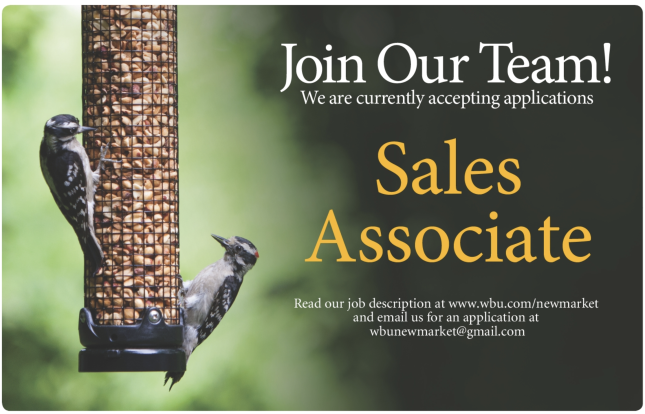 WBU Newmarket is currently seeking friendly and passionate nature lovers for positions as Bird Specialists (Sales Associates) for details on how to apply please read the information below.
Working at your locally owned Wild Birds Unlimited Newmarket store is an opportunity to support and educate our friendly customers about birds and nature. The difference between Wild Birds Unlimited Newmarket and other retailers goes far beyond what we sell. It's who we are. Enthusiasm, professionalism, informed expert advice and superior customer service are the hallmarks of our staff.
We are accepting applications for a Sales Associate with great retail and service skills to work 7-20 hours per week. Ultimate responsibility is to work with our sales team to create an unsurpassed customer experience. Our training program will teach a nature lover the bird, hobby, product and sales knowledge needed to work with our great customers. Our service standard requires the ability to carry 50 lbs. bags of seed and the effort needed to create an exceptional in-store experience.
Our Sales Associates work with other staff, including the owners, to bring to life the store's mission – "We Bring People and Nature Together®…And We Do It With Excellence!" To that end, we provide training with regard to backyard bird feeding, bird watching and product knowledge. Our goal is to provide quality products, service, expertise and a high energy shopping experience. Help customers bring nature into their own backyards and lives. Come join our team!
Position Considerations Include:
We are open 7 days a week and associates are expected to be available on weekdays, weekends as well as evenings
Previous retail and customer service experience a strong asset
Must have a friendly, outgoing disposition
Must have an interest in nature and wildlife- required
Must be comfortable with computers and able to use a computer based POS system, Word and Excel (training for POS provided)
Wild bird feeding experience is not required, but is a plus
Holidays are busy times and Sales Associates are needed to work during these periods
Ability to lift and carry up to 50 lbs. bags of bird seed
Ability to climb a 10 foot-ladder
Ability to work in a fast paced setting and spend extended periods of time on ones feet
Apply for this Position
To apply for this position please complete and submit the Employment Application along with your resume via email ([email protected]). Please refrain from dropping off applications in person as we are focused on assisting customers during store hours. All applicants MUST fill out our application, as there are specific questions pertaining to this job.
We appreciate all applications however only candidates whose background, qualifications and availability meets the needs of Wild Birds Unlimited Newmarket will be contacted for an interview.
The support and training that we provide to our Sales Associates will enable you to function confidently in a retail environment. We offer a competitive wage in a pleasant working environment.
Work Environment:
Commitment To The Hobby Of Birdfeeding
Appreciation Of Nature
Interact With Great Customers
Positive, Professional Work Environment
High Standards Of Business Ethics
Wild Birds Unlimited Brand Products Contribute To The Store's Success
Training:
Complete Backyard Birdfeeding Training
Complete Retail Training
Sales Training
Employee Handbook
On-Going Training
Training Provided To Do The Job Well
Benefits:
Competitive Wage
Employee Discount
Recognition And Appreciation